Dennis O'Brien - Principal

An analytic and innovative marketing executive, Dennis is an expert in audience development and subscription marketing. He continues to develop new strategies and tactics to leverage the growing number of channels and tools at a marketers disposal today.
His leadership has resulted in significant improvement in subscription, retention, digital, and ancillary product revenue for past employers and clients alike.
D
ennis makes his home in Georgetown, MA.
He earned a BA in Economics from Binghamton University, and an MBA in Marketing Management from Iona College in New Rochelle, NY.
To learn more about Dennis, view his LinkedIn Profile.Industry Experience:Professional Achievements

Judge, 2017 SIPA Awards
Speaker 2016 BIMS Conference: "New KPIs for Marketing"
Speaker, 2015 BIMS Conference: "Marketer's New Digital Toolkit: Save Time, Speed Production, Cut Costs, and Improve Results"
Contributor, September 2010 issue of Folio: "The Drive for Transactional Fulfillment"
Speaker, 2007 Annual Folio Show: "Organizing Your Marketing Department"
Speaker, 2006 Annual Folio Show: "Circulation Planning"
Featured cover story, Circulation Management, March 2006 issue
Judge, 2006 Circulation Management Awards
---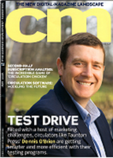 ---
With the rising cost of postage and paper and most of the spotlight on the Web, the accountability of direct mail as a primary tool for acquiring subscriptions is under pressure. Consumer marketers, however, say that its relevance is as strong as ever.

The recent 2007 Industry Survey in Capell's Circulation Report highlights the conflict over direct mail's ultimate utility. Overall gross direct-mail response rates in 2006 were up 3.48 percent (from 3.12 percent in 2005) and overall industry net response rates in 2006 were up 2.10 percent (from 1.80 percent in 2005). Direct mail pay-up rates were also up 2 percent. This was all accomplished while most circulators were lowering their mailing volumes.

However, in the same survey, about half of respondents reported worse overall direct mail results that the previous year. So is direct mail dead? Or is it alive and well?

CM spoke with consumer marketers from National Geographic, Reader's Digest, Interweave Press and The Taunton Press, as well as industry consultants, to discuss what's working, what's not, the importance of targeting the right audience and what's ahead for the future.


WHAT STILL WORKS, AND WHY


"The voucher package is still front and center," says Shira Linden, a freelance copywriter and consultant who specializes in circulation marketing. "But they've gotten longer, with more enclosures. It's a sort of a morphing between the traditional package and a voucher."

You may be not surprised to hear that the voucher—along with a few bells and whistles—is still king. But its relevance is even more evident now that paper and postage prices are climbing steadily.

Richard Brown, director, new business, at National Geographic, says the death of the voucher is nowhere in sight. "We're currently using a voucher package that contains one small colored sheet with a premium offer," says Brown. "Like everyone else, we moved to this type of package when things were getting expensive to mail. The response we get with these vouchers equals the rate we get with better glossy packages. By using this package, we can continue to increase response rates while seriously reducing expenses."

Not everyone is completely bullish on vouchers. Special-interest publisher The Taunton Press, which publishes titles such as Fine Cooking and Fine Woodworking, is using #10 packages, 6x9 packages—and even cover wraps have resulted in a higher response rate than vouchers.

"We're trying test into voucher with limited success, " says Dennis O'Brien, VP, circulation, "but we have been using a sample wrap, which includes an envelope to respond with. It's worked like gangbusters."


DOUBLE POSTCARDS: MARKETING'S DRIVE-BY SHOOTING


One package that seems to be the scourge of the litter right now—for various reasons— is the double postcard. In his "Ideas in Circulation" blog, Richard Riccelli wrote that double postcards are "the marketing equivalent of a drive-by shooting—they induce quick sampling, but depress future pay-up."

"Double postcards have high net response, but weak payments," agrees Bob Kaslik, VP, consumer marketer, Interweave Press, which publishes Beadwork and Creative Jewelry. "The purpose of a double post card is to get a free trial issue into the hands of the prospect. Because there isn't much promotional copy on the card—the prospect doesn't really know what they are getting—it's just a free no-risk copy."

According to James Sullivan, project director at Optic Nerve Direct Marketing, double postcards can sometimes be even more trouble than they're worth. "A lot of magazines used to use double postcards very often," he says. "They're personalized on both cards, so you tear one off and send it back. But it's expensive to pay for the cards to be sent back."


RACHAEL RAY'S STATEMENT OF BENEFITS

Other consumer marketers are finding success in a statement-of-benefits package with lots of color and relatable images. Every Day With Rachael Ray uses a benefits-driven form along with a four-color brochure with Rachael's face all over it.

"Our package espouses Rachael's core strengths—her '30-Minute Meals' TV show, her accessibility, the idea of 'fun' and how to 'take a bit outta life' in and out of the kitchen," says Christopher Gaydos, circ director, Reader's Digest.

Gaydos adds that the company won't be curtailing mailings despite postage and paper costs because demand is still strong and the goal is to maintain growth.

"We are constantly tweaking the package though, looking for ways to reduce cost and keep response high," he says. "Things like a smaller brochure help, and redesigning the outer envelope helped pull 10-15 percent of material costs out of the package without reducing response. "


REACHING THE RIGHT AUDIENCE


Because of rising costs and decreasing budgets, "test more, mail less" seems to be the current motto for consumer marketers. This means the packages have to have the right message in order to reach the right consumer.

"In terms of packages, it's always good to test if the budget allows," says direct marketing consultant Karen Weinstein. "Sometimes, but not all time, by testing you can find who's responding to what. As far as the rising costs, people are just going to see what happens and go with it. Certainly, this will impact the amount of testing and mailing that's done, and whether the right message is getting to the right person. That will heighten the need."

O'Brien explains that the reason the sample wrap works so well for Taunton's titles in reaching the right audience is because it plays to the sensibilities of the potential subscribers, who are already devoted enthusiasts.

"We're at a higher price point than our competitors," he says. "We don't discount our subs, which forces us to narrow our mailings. We need lots of room to sell ourselves in order to get people to fork over the money. That's why the sample wrap works so well."

It's also important to inject the same personality in the package as the magazine itself.. "The package is fun, just like Rachael Ray, but gets to the point, telling the prospect exactly what they're going to get—a lot of recipes, tips, and insight and inspiration from Rachael Ray," says Every Day With Rachael Ray's Gaydos.


INTEGRATING WITH ONLINE EFFORTS


Opinions are mixed when it comes to integrating direct mail with online marketing. Some say that it's best for subscription acquisitions, while others say it's more suitable for billing and renewals.

"We've been sending out two upfront e-renewals prior to the first paper effort," says O'Brien. The first e-renewal worked—so using tradition paper renewal logic we added the second effort, which was successful as well, meaning that it produced a renewal order at a cost lower than traditional paper effort."

Kaslik says that because the amount of mailable names is declining as people gravitate to the Internet, a lot of marketers are going online to do both subscription acquisition and retention.

"We're experiencing increases is subs sold through the Internet in excess of 30 percent year over year for most titles," he says. "The challenge is to try and track where it's coming from."

Gaydos says that Rachael Ray is currently testing drives to the Web within its direct mail and is also working to get people to go online and provide that extra information. "We are looking at ways to incentivize subscribers to give us their email addresses in exchange for digital premiums, or paying online to get their first issue digitally," he says.

For other titles, integration between online and direct mail didn't generate much response at all. "We have an online sub program that includes an email component, but haven't collaborated too much with direct mail, says National Geographic's Brown. "In the past, we have offered the opportunity to subscribe online from the mail package, but most responses come back through the mail. Still, email is a channel that we are interested in expanding."

THE FUTURE OF DIRECT MAIL

So as online marketing continues to develop, will it eventually replace direct mail altogether? Consultant Weinstein points out that some audiences are more comfortable with going online than others. "I think it depends on the audience the magazine is trying to reach," she says. "The Internet certainly provides more ways to keep readers interested, but I certainly don't think traditional mail will ever go away. It needs to be a part of the mix."

Linden adds that the tremendous success of newer consumer magazines like Every Day With Rachael Ray proves that people are still into print. "There's still is a demand for content in print. It's a format that people want," she says. "There's still a demand for great content created by interesting people with something to say."

Using direct mail as part of a triad of marketing strategies will only lead to higher response rates, according to Sullivan. "A magazine may have a site or email offer, but once they shut down their computer, all of that information is gone from their immediate view. But when that consumer opens up a direct mail package, the phone number is right in front of their face, and it's not going to go anywhere until they throw it out."


DIRECT MAIL AND THE MASS-MARKET PUBLISHER

Meredith sets its sights on better segmentation, personalization and the revival of the sweeps.

By David Ball, VP, consumer marketing, Meredith

The Meredith Magazine Group has always prided itself on its strong direct-to-publisher model and the strength of its direct mail programs. We continue to have profitable direct mail across our magazine and book product lines, but each year brings new challenges.

The current move in many legislatures across the country to enact "Do Not Mail" laws poses the biggest challenge we've seen in a while. On the one hand, I do not want to waste time and money promoting to people who are not interested in my products; from that perspective I applaud people letting me know that I should not send them any more mail. On the other hand, purchasing magazines, either by subscription or on the newsstand, tends to be an impulse buy. I don't believe that most people can anticipate whether they will want to buy a subscription to Better Homes and Gardens a year from now or not. The industry needs to do a better job in educating people about the benefits of direct marketing so we don't end up with 50 percent of America opted out from receiving our offers.

The highest testing priorities for Meredith over the next 12-24 months will be in the areas of segmentation and personalization. We strongly believe that we need to get better at presenting the right offer to the right person at the right time. We already use sophisticated modeling techniques on a large percentage of the mail we send out. Still, the vast majority of people receiving our offers do not respond. There's a huge opportunity for us to get better at segmenting our audience.

I also believe that more personalization will result in higher response rates. One of the biggest obstacles to more personalization is a lack of really clean, accurate name and address information both on our house files and on the files we rent. It is unacceptable to send a mailing to D. Ball and have the greeting say "Dear D:". We have made obtaining better data a high priority for 2008.

Finally, it is time to begin retesting sweepstakes offers in direct mail. Used responsibly, these offers are a great tool for getting people to sample your product. We have seen great success in sweepstakes driving traffic on the Web. We need to develop a sweeps offer to supplement our strong non-sweeps packages so we can get our products into the hands of more readers.


The following data—which was calculated by ParadyszMatera's MarketRelevance media and promotion tracking tool, and does not include direct mail use during the last quarter of 2007—shows that circulators are increasingly dependent on vouchers and #10 packages to economically pull in new subscribers. The percentages are based on approximately 1,200 consumer publishing direct mail campaigns.


METRICS: DIRECT MAIL USAGE, 2007

The following data—which was calculated by ParadyszMatera's MarketRelevance media and promotion tracking tool, and does not include direct mail use during the last quarter of 2007—shows that circulators are increasingly dependent on vouchers and #10 packages to economically pull in new subscribers. The percentages are based on approximately 1,200 consumer publishing direct mail campaigns.

• The use of premiums in direct mail packages stayed the same from
2006 to 2007.
• The use of pure vouchers rose from 48 percent in 2006 to 51 percent in 2007.
• The use of #10 packages rose from 34 percent in 2006 to 37 percent in 2007.
• Monarch package use decreased to 4 percent in 2007 from 7 percent in 2006.
• The use of hard offers increase to 67 percent in 2007 from 64 percent in 2006.
• The use soft offers dropped to 28 percent in 2007 from 30 percent in 2006.

And according to researched conducted by Vertis Communications, the number of Hispanics who responded to direct mail marketing jumped from 38 percent in 2003 to 54 percent in 2007.


The Drive For Transactional Fulfillment
Publishers' push to evolve to or optimize consumer-driven, multi-product, multi-channel business models is putting unprecedented demands on fulfillment bureaus. Here's a status report—including major new developments at the big bureaus in response to these strategic trends.
BY KARLENE LUKOVITZ
FRIDAY, SEPTEMBER 10, 2010
In this article, Dennis provides insights into the use of transactional database to drive marketing efforts. Some of the strategies and tactics used by New Track Media are discussed.
---
As advertising-driven consumer publishers push to morph to more consumer-centric business models, and special interest publishers seek to use cutting-edge capabilities to optimize customer lifetime value, fulfillment partners are being challenged to step up to the plate like never before.

Efficient, cost-effective performance of traditional print magazine fulfillment functions remains a core need. But in today's media environment, realizing profitable growth demands a multi-product, multi-platform business model. These evolving models are heavily geared to increasing emphasis on digital assets, both for creating new, higher-margin content offerings for new and existing customer bases, and for reducing product delivery, billing, renewals and customer service costs.

All of which is driving the demand for systems capable of enabling an integrated, actionable view of all customer transactions, across platforms; employing customer transaction history and profile data to generate real-time, intelligence-based cross-sells, up-sells and relationship-building content; providing immediate access to paid digital content; bundling/unbundling print and digital content formats per customer preferences; handling membership and continuity-based programs and payments; and supporting technical and marketing platforms for e-tablets and other mobile devices.

"Clients' capabilities requirements for fulfillment bureaus have changed more radically in the past few years than at any time in the industry's history," sums up publishing/fulfillment consultant Steve Strickman.

As suppliers strive to be technology/marketing solutions partners, the term "fulfillment bureau" (or at least its traditional connotations) is becoming outmoded.

New Breeds of Systems
While all fulfillment bureaus face similarly evolving client needs, their responses are shaped by a number of factors—including, of course, the architecture and capabilities of their core systems.

Newer systems—for example, those of Strategic Fulfillment Group (SFG), ESP, NCS, ICN, Cambey & West and ARGI—have been built with relational, single customer-file and real-time capabilities.

SFG's system, for example, offers all of the capabilities described above, plus custom solutions. SFG owner and client DRG, a crafts enthusiast publisher that originally built the core system to meet its own cross-product/cross-channel marketing needs, sells magazines, clubs, Web-based content, and a wide range of affinity-related products through catalog/e-commerce properties such as Annie's Attic.

All of DRG's digital and traditional marketing efforts (about a half-billion touchpoints across channels annually) are driven by customer profile data and transactions history and algorithmics-based real-time decisioning, confirms Shirrel Rhoades, a publishing consultant whose clients include DRG/SFG. The hub-and-spokes, affinity-based, cross-product/cross-channel business model exemplified by DRG is shared by many enthusiast publishers, because it enables profitable growth for companies that lack the economies of scale of large publishers, points out Rhoades.

StayWell Consumer Health Publishing, which manages non-editorial business operations for the Harvard Health Publications, has worked with SFG to create "robust" e-commerce capabilities for HHP's health newsletters, special reports and premium online access offerings, says StayWell president Helen Hoart. The back end of HHP's recently relaunched Web site has been married to SFG's system, enabling capabilities including online product cross- and up-sells; gatekeeping for the online archival and current content that's bundled with paid digital and print subscriptions, as well as for PDF-format paid reports; and immediate email confirmations for all transactions. Staywell/HHP uses database analysis to determine the offers triggered, says Hoart.

Alvin Brockway, associate publisher, audience development and circulation for the publisher of The Chronicle of Philanthropy and The Chronicle of Higher Education, uses ESP's relational, real-time system for capabilities that include selling print and digital edition subs (including a CHE global edition) and offerings such as a paid niche digital newsletter and survey data sets, as well as for gatekeeping (full access to site content is bundled with paid subs). A new Chronicle store is selling special issues and reports from both brands. (NCS, Cambey & West and ICN offer many of the same capabilities.)
ARGI's Acuity product, launched last year, which can interface with ARGI's outsourced subscription fulfillment services through a publisher portal, is an

integrated audience management system that enables clients to create and manage their own audience interactions (content control, personalization, monetization), implement closed-loop marketing campaigns, build custom applications, readily integrate with third-party applications, and provide customers with the ability to manage their profiles, among other capabilities.

Legacy System Challenges
The core fulfillment systems of the two largest bureaus, CDS Global and Kable/Palm Coast Data (PCD), were designed primarily to handle large volumes of print magazine transactions and fulfillment-related processes as efficiently and cost-effectively as possible. The same can be said for the Time Inc.-owned Time Customer Service (TCS) system, although TCS executives point out that the system, built in the 80s, has always applied transactions in real time, and that paywall capabilities were developed a decade ago in response to AOL needs.

Batch processing-oriented legacy systems excel at what they were designed to do, but adapting their actual infrastructures to accommodate new business models is difficult, time-intensive and very costly. And given the advertising declines of recent years and their massive investments in digital platforms and content, major publishers have not been greatly inclined to wait for solutions.

A core legacy system challenge has been achieving true integration of print magazine/newsletter mainfile transactions and other product offerings spanning digital formats and brand extensions such as books, online clubs and events.

In addition, most large publishers have separate marketing or CRM databases maintained by leading database companies or in-house, incorporating customer-level transactions overlaid with demographics and other data, and generally tied to a targeting system informed by analytics and modeling.
Why have relatively few clients of the major bureaus, at least thus far, chosen to use fulfillment house database solutions—which CDS and Kable/PCD have, for example, offered through partnerships or licensing agreements with third-party database systems suppliers? The answer seems to be that publishers have made substantial investments in their database solutions, and either consider them more robust or have not up to this point seen sufficient value-added (in capabilities or cost terms) to migrate to bureau database solutions.

One result has been the need to synch periodically the data in bureaus' magazine masterfiles with the data in marketing databases to achieve a consolidated view of customer transactions. A magazine title's mainfile is generally updated weekly, and while pending, as well as completed, transactions may be viewable online by customer service and customers, the lag in updating the magazine database files (to consolidate customer intelligence and magazine transactions) to some degree impedes ability to make timely, customer-specific offers based on up-to-date transactional history.

This processing can generate significant additional costs. Moreover, there are multiple files/systems with different objectives, often vying to accomplish either the marketing execution or the fulfillment logistics, and keeping these coordinated is an additional management challenge for publishers, points out Joe Furgiuele of marketing data solutions provider Furgiuele & Company, Inc.

"Given two files, usually located in separate locations, often by different vendor companies, only one can be the 'master' file," says Furgiuele. "In practical terms, the fulfillment file must be the master, and the marketing database the slave. This makes it difficult to harness the intelligence in marketing databases to make truly targeted offers in real time. The database has to know that Customer A has just subscribed to another of the company's magazines, or renewed, or has now purchased some other product from the company, or whatever the case may be."

Many publishers also use third-party suppliers for functions like email deployment (generally citing cost factors). And while most host their landing pages at the bureaus, some have elected to host or have a third party host their landing pages. Reasons: They may find these solutions more efficient than client Web management tools provided by the bureaus, or don't want to wait for bureau staff to make Web page changes, or they get greater "granularity" in reporting capabilities for testing and analysis purposes through non-bureau hosting alternatives.

One bureau client reports that data coming from different vendors has meant having publishing staff manually create consolidated spreadsheet reports capable of showing detailed online and email results metrics alongside source data from the bureau, to make data actionable. "Digital should be just another source to report, but it's been challenging for legacy system bureaus," he says.

Current Big-Bureau Capabilities
All of that said, several clients recently interviewed credit CDS and Kable/PCD with developing viable solutions for working around many of the limitations of legacy systems. Further, according to the bureaus, major leaps forward in capabilities are about to come to fruition as a result of investments and intensive development.

"CDS has been becoming more of a technology vendor as opposed to just a fulfillment house," says David Ball, VP, consumer marketing at Meredith.

For instance, Meredith has been hosting its own landing pages, but recently shifted Better Homes and Gardens' hosting to CDS, and also hopes to move the other brands' landing-page hosting to the bureau over the next few months. "This speaks to their evolving ability to ensure a seamless interface," Ball says.

On the mobile front, for three brand sites, CDS has created landing pages designed to download efficiently from smartphones, to support enhanced conversion rates, Ball notes. Meredith will also be looking to the bureau to enable a growing range of consumer products, such as a relaunch of BH&G's online store (requiring product fulfillment) and a Fitness digital health-metrics tracking tool (requiring gatekeeping), he says.

"Up-selling product from a magazine subscription is still a challenge, but most of our challenges are more related to marketing strategies than to technical or fulfillment challenges," Ball adds. "Technically, what's not in place now will probably be worked out within a year."

New Track Media, serving enthusiast areas such as quilting, woodworking and astronomy, has recently completed work with PCD to create an integrated, bureau-housed corporate customer database, reports VP, consumer marketing Dennis O'Brien.

The database enables an aggregated customer view of transactions spanning 12 magazines, two online membership clubs, seven e-commerce affinity clubs (six tied to magazine brands, which sell print issues, books, CDs/DVDs and a variety of affinity-related products, plus online/print cataloger Keepsake Quilting), and about 18 annual events.

"At present, no transactions are fed into the corporate database in real time, but the enhanced database analysis ability allows us to create a path or sequence of promotions based on transaction history," says O'Brien. "When an online transaction occurs and our email service provider or ESP is pinged, that triggers the appropriate next email, as determined through our database analysis. These promotion decisions at ESP do happen in real time, so we're able to leverage history to optimize many real-time, event-driven marketing efforts." He adds that the catalog and non-magazine online products fulfillment are managed on separate systems, and that data is exported to PCD for integration on a monthly basis. Magazine mainfile updates occur weekly; however, pending transactions for a single title are currently viewable for customer service purposes.

"This allows us to improve the targeting of subscribers for ancillary product offers and takes us beyond typical promotional source evaluation to a lifetime value-driven model," says O'Brien.

New Track will leverage newly accessible multi-product purchase sequence intelligence to optimize cross-sales by determining which brand or business should reach out to a particular customer, based on his/her first or latest transaction, as well as hone the sequence and frequency of email and other contact series. "We'll be able to tailor the number and content of email contacts to the customer," and the timeliness and relevance of these will in many cases enable more promotion opportunities without the risk of fatigue, O'Brien reports.

While the path of responses or bounceback contacts are at this stage event-driven, rather than tied to algorithms that produce one-to-one, real-time responses, the current behavioral intelligence should ultimately enable New Track to actually influence or direct the customer purchase path, he adds.
Bonnier Corp., another multi-title enthusiast publisher using all available capabilities to optimize multiple product sales across channels and platforms, offers iPad apps along with a range of other products similar to New Track's. Bonnier houses its customer database at PCD and accommodates the special multi-file/multi-data point needs of two brands by using a "unified" add-on option for the core fulfillment system, explains senior director of operations Jim Patterson. Those brands are Parenting, which needs to transfer subscribers from one age-dependent version to another, and Sport Diver, which has a club membership tie-in.

At TCS, a major emphasis is on enabling the profitability and customer relationships associated with "recurring" businesses, including subscriptions and membership programs, says president Tim Adams. The bureau's clients, who include National Geographic, Martha Stewart Living, American Express Publishing and incoming Smithsonian as well as Time Inc.'s properties, are DTP-driven and realize subscription pricing and flexibility benefits from payment capabilities that include credit card (standard and auto renewal) and PayPal, he says. To enable retailer partnerships, an interface with point-of-sale systems allows retailers to verify the customer's paid status, and online payments can be made via retailer-branded credit cards.

TCS got a jump on developing multi-product and membership-model capabilities, in part to serve the needs of the (now defunct) AFP sub agency, and can treat an order for two different items, such as two magazine subs or a sub and a product, as one order for billing and service purposes, according to Adams.

SIDEBAR

Big Bureaus' Big Developments

CDS president Malcolm Netburn reports that current areas of focus include e-commerce enhancement, leveraging online customer service contacts (including confirmation/renewal emails) as cross- and up-sell opportunities, and creating seamless combined digital/print subscription capabilities. Another crucial priority: Working with other bureaus that have clients who are participants in the Next Issue Media (NIM) major-publisher digital publishing consortium to create an ordering/launch environment, including an online storefront, enabling subscription sales for various e-tablet platforms, including the iPad.

But perhaps the biggest news is integration. Rather than adapting its core SERV fulfillment system, the bureau is using open-source architecture to create capabilities modules (such as combo/cross-product and cross-publisher offers and digital storefront modules) that plug into an already-built power bar/layer, which consolidates data from the modules and communicates to SERV just the data needed by that system, explains Netburn. Below this will reside a CRM database, built in partnership with Acxiom—the database supplier used by CDS owner Hearst for the past three years—consolidating all transactions into a single customer view and enabling analytics and marketing decisioning capabilities.

The architecture is in place, service modules will go live as they are completed, and the single view will be available within a year, Netburn reports. The new capabilities will be included in basic service costs, and clients will be able to choose which pieces they want to use. CDS parent Hearst has made a $20- to $30-million investment in developing the new capabilities, and database costs can be amortized across many clients, he says.

Netburn points out that maintaining and continually upgrading databases to avoid obsolescence is expensive and complicated. "Publishers will no doubt deploy other touchpoints that never come through us," he says, but given the capabilities of the CDS database being built, "we think that they are going to want to drop that data to us, too."

Meanwhile, PCD has moved ahead with a new "technology roadmap" designed to offer publishers an e-commerce platform akin to those in the retail and financial services sectors, according to EVP/COO Mike Taschler. Clients will have a real-time, consolidated view of all transactions across products and channels, and customers will have self-service online capabilities, he reports.

The solution will enable publishers to perform gatekeeping and one-to-one contact delivery and content based on predictive analysis and customer data modeling.

According to PCD, the design/development process began over a year ago and new customers are already in the process of being "on-boarded" to the platform.

Current clients not involved in the development process told AD that the concept sounds promising, but many specifics aren't yet clear to them. Existing clients were told that PCD's intent is to convert them from a legacy Internet platform to the new system by the end of Q1 2011.

Aside from the cost structure, some current clients say they'd like to know more about the interface between digital and the fulfillment masterfile—to understand, for instance, how fulfillment for customers who want both print and digital, or to toggle back and forth between formats, will be managed.
PCD executives say that the real-time delivery of digital publications and those transactions will feed into the print fulfillment system, and the print subscriber's experience with be enhanced by the new system's online customer service capabilities.

Taschler says the cost savings realized from having consolidated three former EDS and Kable facilities into the Palm Coast facility and consolidating systems, along with work to optimize automated electronic digital transactions, are funding the new system development.

At TCS, a continuing focus is enabling clients to access and interact with all transactions in real time, says Adams, who says that Time Inc. makes six- to seven-figure investments in systems development annually. For example, the bureau's Web-enabled mainframe makes it possible for customer service and customers to view the same, consolidated account record. The system is also capable of serving iPad and other digital formats and handling associated transactions, he says.

TCS's global and digital capabilities will be key in driving its growth going forward, says Adams, who notes that digital product models are likely to have global scope, be subscription-based, and use credit card payment or be bundled with another offering.